To improve the health, well-being, and safety of our community by working collaboratively to reduce and prevent youth substance abuse and challenge social norms about substance use.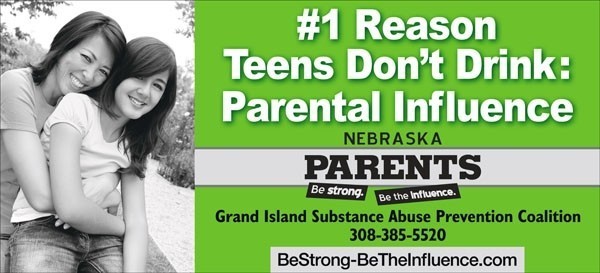 The Grand Island Substance Abuse Prevention Coalition (GISAPC) was founded in 2003 and has met regularly since that time, striving to build a community wide prevention system that includes like minded organizations, individuals and businesses to address youth substance use issues.

We Partner with agencies to help change attitudes and raise awareness of the dangers of substance abuse, with a focus on preventing underage alcohol use and binge drinking among youth.
We develop relationships with city and county officials to help impact policies
Develop and initiate positive community norms
Provide prevention and recovery resources to the community
Strengthening Families: Making good families stronger
The Strengthening Families Program for 10-14 year old's includes a free meal as well as free childcare for younger kiddo's. SFP is an evidence-based family skills training program found to significantly improve parenting skills and family relationships, reduce problem behaviors, delinquency and alcohol and drug abuse in children and to improve social competencies and school performance.
Next Series begins March 1st for 10 - 14 year olds
7 week series held on Thursdays at New Life Church
from 5:30 - 8:00 p.m.